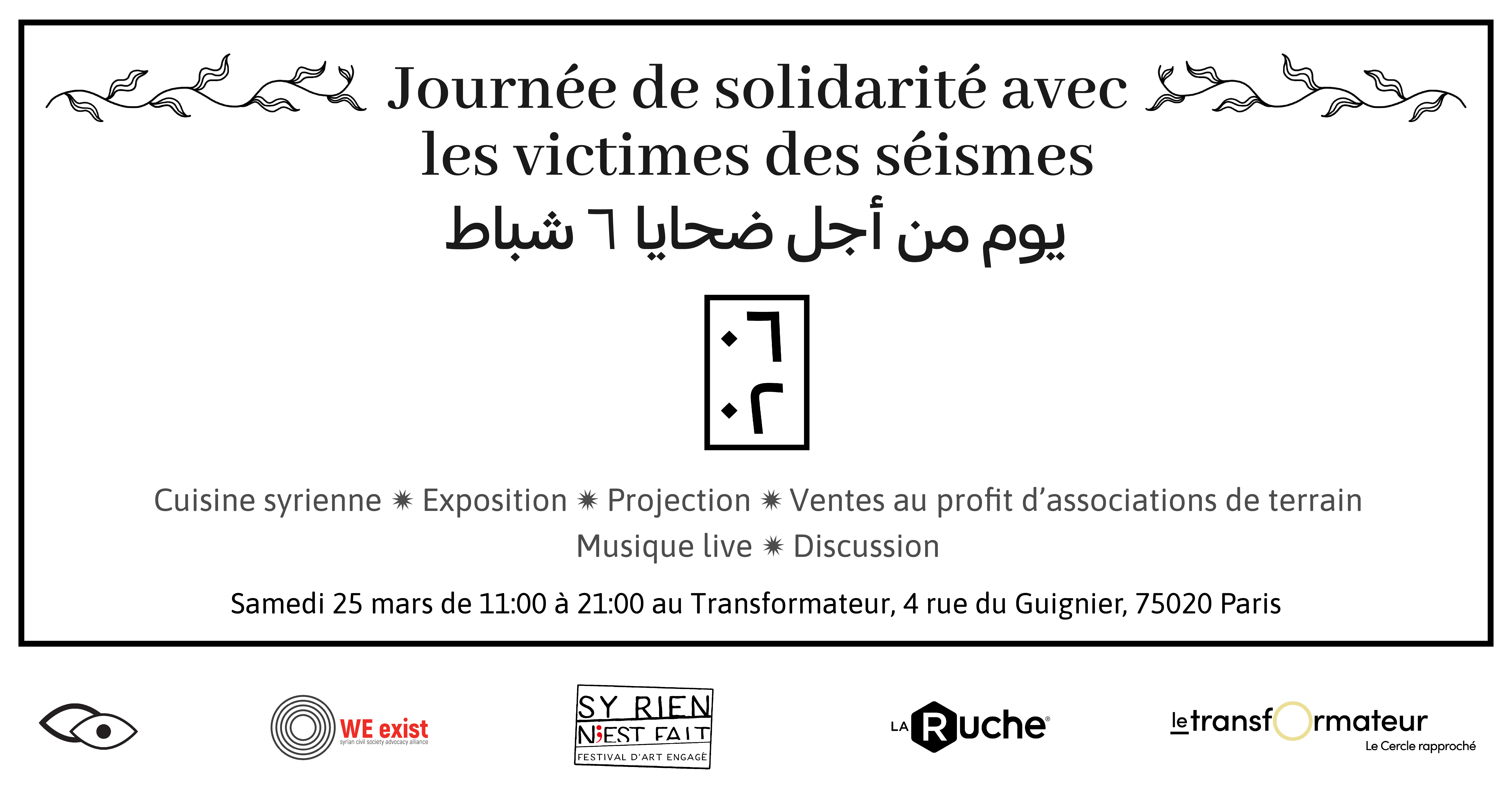 Appointment on Saturday, March 25th at Le Transformateur for a day of solidarity with the Syrian people, following the recent earthquakes that devastated the region.
INFO
📅 Saturday, March 25th
🕰️ 11:00 am - 9:00 pm
📍 Le Transformateur, 4 rue du Guignier, Paris 75020.

Co-organized by 0602 Project, Syrien n'est fait, Al-Ayoun, We Exist!, & La Ruche Paris
PROGRAM

2:00 PM - 3:30 PM / Roundtable "Earthquakes know no borders: impact of earthquakes on the Syrian population"
What are the impacts of earthquakes on the Syrian population on both sides of the border? What is the situation on the ground? To what extent has the catastrophe been politically instrumentalized? What are the prospects for this population already weakened by 12 years of war and forced displacement?
Abdulmonam Eassa, independent photojournalist, will present testimonies from Syrian earthquake victims, as well as some of his photographs taken during his recent trip to the disaster-stricken areas in Turkey and Syria.
Elise Daniaud, researcher and PhD student at LUISS University (Rome), will present the official discourse of the Syrian regime following the earthquakes, its political instrumentalization, and the corruption of humanitarian aid in Syria (on Zoom).
Dr. Alaa Abdelwahab, urologist and member of Mehad, will present the impact of the earthquake on the health sector in Syria, particularly in northwestern Syria.
The roundtable will be moderated by Racha Abazied, editorial manager at the Arab Center for Research and Political Studies in Paris - CAREP Paris.
Roundtable organized in partnership with the Revivre Association and Mehad.
4:00 PM - 5:00 PM / Screenings *Daily life scenes captured on Syrian streets after the earthquakes. Produced by Al-Ayoun. *Life after the earthquake, in four chapters Chapter 1: Where we felt home, and where we lost home once again Chapter 2: "The wind carries the voiceless memories left behind" Chapter 3: "Silence is a name for our life" Chapter 4: "We remain refugees: Life in the camps; again" By Albaraa Haddad, Syrian photographer, filmmaker, and documentarian.
5:30 PM - 6:15 PM / Concert / Rania Badri, handpan 5:30 PM - 8:30 PM / Syrian Cuisine / By Chef Doha Elkhaldy 7:00 PM - 7:45 PM / Concert / Ibrahim Audih, guitarist-composer 9:00 PM / Closing
11:00 AM - 9:00 PM / Ongoing activities *Exhibition 0602 / 0602 is an artistic project aimed at supporting the emergency response in Syria following the multiple earthquakes that struck the region on February 6, 2023, through the sale of reproductions of artworks generously offered by different artists from the MENA region. These works will be exhibited throughout the day. An impression sale will also be provided; all profits will be donated to on-the-ground associations. *Association Stands / The Revivre, Mehad, and Paris Response Initiative associations will be present on site to ensure sales for emergency aid on the ground and provide information on initiatives and the situation in Syria.
CONTEXT
On February 6th, devastating earthquakes struck Turkey and Syria. The provisional toll of this disaster exceeded 50,000 deaths in both countries. Many Syrians are among the victims: at least 10,000 Syrians have lost their lives on both sides of the border, as the numbers continue to rise. This disaster has further weakened an already vulnerable population: the northwestern region of Syria, suffering from the politicization of aid and whose population was already 90% dependent on humanitarian aid, is now in a critical state. The situation is also extremely difficult in areas controlled by the regime, where the economy was already collapsing and where corruption in the aid system was hindering access to aid. Since the earthquakes, many humanitarian needs have emerged: tens of thousands of families are now homeless, aid stocks are very low, data collection systems are weak, Syrian refugees in Turkey are living in disastrous conditions, many people are missing... The needs on the ground go beyond comprehension. That's why we've decided to organize a day of solidarity with the Syrian people, who are facing one of the worst disasters of this century. The purpose of this event is to show support for the Syrian people, pay tribute to the victims, and raise funds to directly support grassroots organizations engaged in emergency response. 🤍 Looking forward to seeing many of you there.

Facebook event